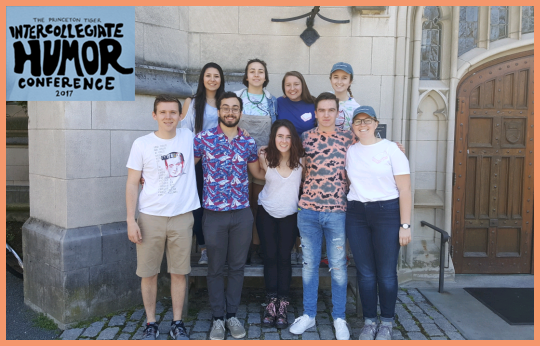 A few weeks ago, eight of my fellow 
New
England
Classic
 writers and I took a trip down to Princeton University for the National Intercollegiate Humor Conference. Organized by the university's own
Princeton Tiger

 humor magazine
, the conference has been held annually for the past five years. 
However, this year marked the first time that
The Classic
 made the long drive down from Chestnut Hill for the event, and boy was it neat! We networked with peers from other college publications, received valuable advice from professional humor writers, and overall had a really fun weekend. As a bit of a follow-up to my recent class presentation on 
The Onion
, I'd like to share what the conference taught me about digital brand building and online content creation as well as a few plans I have for how to apply these lessons to my future work with
The
Classic
.
Up until a few months ago, I had no idea that the National Intercollegiate Humor Conference even existed — I got bored one day and started googling "college humor conference." From there, it was pretty easy to assemble a group of excited 
Classic
 writers for a weekend excursion to New Jersey. 
We were one of many new groups at the conference this year, which drew in over 170 total attendees from 16 different humor publications (most of which were from schools on the East Coast, but there were also groups from Louisiana, Michigan, Wisconsin, and even California)! The main attraction for the weekend was a series of panels and workshops with staff writers from 
The Onion
 and 
Clickhole
, and we were all excited to learn a thing or two from some of the best writers in the business.
The Onion runs a tight ship.
During the panel, I learned that that 
The Onion
 (the news site itself, not the digital media parent company) has ten full-time staff writers and three editors, and that's it! Well, that's not entirely true. They also have a number of writing fellows (interns) and a small graphic design team, but the paper has largely stuck to its small-scale roots and avoided personnel bloat. This makes sense for both economical and creative reasons, as one writer explained that having too many voices in the pitch room is often a detriment to the creative process. Although
The Classic
 doesn't have to worry about paying its staff, we've been thinking about making changes to our organizational structure in order to emphasize quality over quantity!
Onion writers don't care about how their articles do on social media.
The four 
Onion
 writers that answered my panel question said they don't pay too much attention to the number of online likes or shares that their articles generate. I'm sure there are plenty of business people at the company who make sure that their social media pages and websites get enough traffic, but the writing staff understandably doesn't worry about those sorts of details. 
The writers said that they do pay attention to posts that perform exceptionally well, but only as an indication of what sorts of jokes are preferred by the public. Currently,
The Classic
 doesn't sell any ads on our website, so we also don't have to cater to the Facebook masses. It's definitely a great feeling when an article breaks 100 likes, but there's nothing wrong with running a weirder piece the day after and having it barely get to 25. Variety: it's the spice of life!
Print is neat, but digital distribution is definitely the move.
The conference attracted two distinct breeds of college humor publications: online satire papers and old-school humor magazines. Many 
Classic
 staffers were impressed by the glossy, full-color humor magazines produced by groups like Ohio State University's 
The Sundial
and 
The Princeton Tiger
,
both of which have been in existence for nearly a hundred years. However, the decade-old 
New England Classic
 managed to have the most Facebook likes out of all the groups
 at the conference!
I suspect this is for a number of subtle reasons (the size of BC's student body, our fairly homogeneous campus culture), as well as one big one:
The Classic
 is an online-first publication! This hasn't always been the case: when the paper was founded in 2007, they printed 5-6 physical issues a year, but we have since transitioned to only producing a print newspaper once per semester. Our articles get posted on our 
website
 and are then shared through our 
Facebook
, 
Twitter
, and
Instagram
accounts. 
I have to admit, those fancy humor mags are incredibly nice to hold and flip through, and that's something you just can't replicate with a Facebook link. But it's very hard to build an online following when you're just passing out magazines on campus! A few 
Classic
 staff members want to try producing our own humor magazine next year, and we'll probably give it a shot. But these endeavors won't ever overshadow our online efforts, and we're even looking into a major website redesign at some point in the next few years.
I'm sure this isn't a huge revelation, but online video content is a big deal! The 
Onion
 writers spoke about video only briefly, saying that their process for coming up with a video isn't any different than pitching an article. However, I was more impressed with the videos I saw from other student organizations over the course of the weekend.
Specifically, USC's 
The Sack of Troy
and University of Maryland's 
The Rival UMD
 produce awesome videos that perform very well on social media. The USC group focuses on brief news reports and short sketches, similar to what you'd see on 
SNL
. Alternatively, 
The Rival
 produces a monthly late night-style show, which has an in-studio band and is recorded in front of a live audience!
I spoke with the editors-in-chief of both outlets, and they gave me a bunch of great tips on how to get into the realm of online video. Fine details are still being worked out, but the plan is for a group of 
Classic 
staff members to branch out and create a separate video-focused sister organization, using a format similar to that of USC. This is a really promising project because there aren't any BC comedy groups that focus on creating online videos — looks like we can come along and fill that niche!
And there you have it! Those are my major takeaways from the conference, as well as a few insights on where I see
The Classic
 headed in the near future. I know this blog post was very laser-focused on my personal experiences, but I believe many of the trends I've observed can be applied to the digital media industry in general. I hope you found this an interesting read, and feel free to fire off in the comments if you have any questions!